In Matthew 10:17 and 27 Jesus said, "Be on your guard; you will be handed over to the local councils and be flogged in the synagogues… Whatever I tell you in the dark, speak in the light; and what you hear in the ear, preach on the housetops."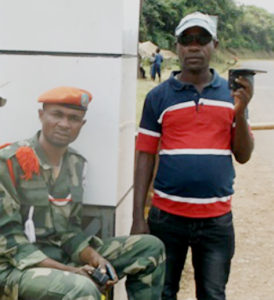 Though John had been an evangelist in the Congo for many years, he didn't learn to read until three years ago when Bridge to Reading volunteers began tutoring in his village.
"I live next to a military camp in my village. One day I wished to reach the soldiers because one of them was my friend. He told me they didn't have a chaplain. The first time I went to the camp the commander asked me to read Matthew 10:17, but I could not. I used to walk around with my Bible but I didn't know how to read. That day the leader chased me away, saying that I was a spy.
"When I learned there was a literacy program at the church, I decided to go.  Three years later I was able to read and then I went back to the camp.  Fortunately, the same commander was still there.  I tried to remind him of my previous visit but he couldn't recall.
"I told him that I had come to pay the full price, to be beaten, before I preached to him.  He told me that he wanted to first hear the good news and after that he would beat me.  I preached to him.  Four months ago he got baptized and every Monday he invites me to preach to the troops."